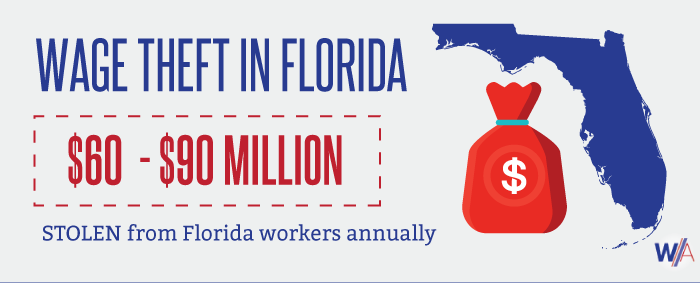 Usually when wage theft is discussed, it's from the perspective of the employee robing the employer through buddy punching or over estimating time worked. However A study released Thursday shows that employers are robbing employees out of money they are owed.
In Florida, this has become a widespread problem. So much so that this week a GOP-sponsored bill that would ban local anti-wage theft ordinances moved forward in a state Senate committee.
The study was completed by The Research Institute on Social and Economic Policy (known as RISEP) at Florida International University. Thiw was the second study on wage theft in Florida that uses data from the U.S. Department of Labor and several community organizations. (Read the full report below)
The RISEP considered employer "wage theft" as situations when workers are not paid their legally owed wages, and according to RISEP it includes "unpaid overtime, not being paid at least the minimum wage, working during meal breaks, misclassification of employees as independent contractors, forcing employees to work off the clock, altering time cards or pay stubs, illegally deducting money from employees' pay checks, and paying employees late."
Key findings from the study include:
From September 2008 to January 2011 more than $28 million in unpaid wages has been recovered through the U.S. Department of Labor's Wage and Hour Division, Miami-Dade's anti-wage theft ordinance and community groups.
Florida's key industries — tourism, retail trade and construction — have the highest numbers of reported wage

violations.

An average of 3,036 wage violations per year are reported to the Wage and Hour Division in Florida.
Despite ample evidence of widespread wage theft among low-income workers, as of December 2011, Florida's attorneys general have not brought one single civil action to enforce the state's minimum wage law, enacted in 2004.
Since the full implementation of the Miami-Dade County anti-wage theft ordinance in September 2010, the county's Small Business Development agency has recovered nearly $400,000 in unpaid wages for 313 workers who unlawfully had their wages withheld from them.
The Department of Labor recovered just under $16 million in wages for more than 24,000 workers in Miami-Dade, Hillsborough, Broward, Pinellas, Palm Beach and Orange counties.
"We estimate that out of $28 million recovered, it's two to three times that amount of unreported cases, because how many people really know about the wage theft ordinance in Miami-Dade, or about the Wage and Hour Division?" stated Cynthia Hernandez, one of the report authors.
"In the case of Tampa there's a community group there that didn't know about the Wage and Hour Division," Hernandez says, "so you can imagine most people don't know, or are afraid to go, or don't follow up or oftentimes the Department of Labor can't help them because they're not covered by the Department of Labor jurisdiction."
The report states what supporters of the local anti-wage theft ordinances have told news agencies before: Existing federal workplace laws do not protect millions of workers, including "hospital, school, or government workers or workers at small, local firms, including contractors for larger companies." Florida's minimum wage law also excludes millions of workers "from protections against employers who withhold their earnings."
In the last six months, various agencies have reported on at least two cases of wage theft in the construction industry: in Fort Lauderdale and Miami-Dade. In both cases, workers were sent time and again from the general contractor to a sub-contractor, who had sub-contracted to a third company. In the Miami-Dade case workers were paid, but some have taken their case to the county's Small Business Development office, which administers the local wage theft program.
The RISEP study indicates that in Florida there are six Wage and Hour Division investigators, one for every 1.2 million workers. The lack of Wage and Hour Division resources and jurisdiction has created a backlog of cases in the state, according to the report.
The study also states that, as of the year 2000, "Florida has no state equivalent to a Department of Labor to investigate wage and hour complaints and does not have staff to enforce its minimum wage law (currently set at the rate of $7.67 per hour)."
More than 9,100 cases of wage theft were reported to Florida's Wage and Hour Division from September 2008 through January 2011. About 5,000 of those cases occurred in five industries: accommodation and food services, retail trade, construction, health care and social assistances, and administrative support and waste management and remediation services.
The business lobby that supports the current GOP bill that would stop local communities from enacting ordinances like Miami-Dade's includes the Florida Retail Federation, which has a pending court challenge against Miami-Dade's wage theft crackdown. Associated Builders and Contractors also supported the bill during the 2011 legislative session.
Samantha Hunter Padgett, deputy general counsel for the Florida Retail Federation, stated in December that her organization supports the Legislature's bill because "existing state and federal laws address the issues raised in local wage theft ordinances."
Hernandez calls her group's report "timely."
"Hopefully enough legislators see it and consider [wage theft] an issue," she says. "And while their argument going around is that 'We don't want a patchwork of county ordinances,' they're not proposing any statewide mechanisms."
"The current mechanisms are not sufficient, but they could at least help, and they're not being funded," Hernandez says."For example the attorney general's office has never pursued a wage theft case."
"Because of studies like this is why we are so excited about our product." says TimeMD.com owner Erik Rowland. "In most cases, business owners want to comply with state and federal guidelines when it comes to wage and hour issues, however they don't know where to start or they feel it's too complicated. Our product simplifies the entire process."
For more information on how systems like TimeMD.com can help, please contact a representative today.