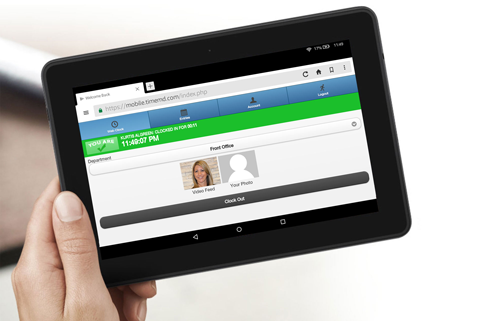 An affordable, reliable time clock
Gone are the days of expensive time clocks that do only one thing, track time. With the Amazon Fire tablet, we can provide full employee verification and timekeeping for a fraction of the cost.
To put it simply, the FireClock is a game changer. There is nothing on the market that can provide full employee verification at the price of this solution. Once you've purchased your Amazon Kindle Fire tablet, it's as simple as logging into your TimeMD account. Nothing to configure. Nothing to set-up. Nothing to maintain. The FireClock is ready to start recording your employee's punches. The FireClock also takes their picture when a punch is made. Their photo can be used to determine if it was the actual employee or a "buddy" doing the time tracking for them. With no software to install and no long-term contracts, it just doesn't get any easier than this!
Some features of the FireClock include:
The most inexpensive employee verification time clock on the market.
No software to install – use the Fire's integrated browser.
No special hardware to maintain or replace.
Customizable to allow for various time tracking fields.
A variety of wall mounting solutions to ensure secure placement.